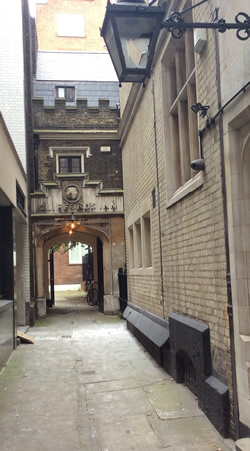 The gatehouse and its adjoining wall are the only parts of the original Cliffords Inn. The building is listed Grade II and has the following (rather sparse) information on the National Heritage List for England as follows:

CLIFFORD'S INN EC4 1. 5002 The Gatehouse with Gateway and Screen Wall to west TQ 3181 SW 7/74 5.6.72. II GV 2.
Early/mid C19. Tudor style. Yellow brick and stone. 2 storeys plus slated mansard to south; 3 storeys to north. Stone archway with coat of arms over. Battlements to roof. Old stone tablets in screen wall dated 1682 and 1782.


An earlier listing gave the date of 1832 (thoughthis seems rather early for the SanSerif lettering) and the architect as John Shaw (?)

There is an explanation of the origina of the curious angled metal plates on the wall to the right of the picture here


Disclaimer: Cliffordsinn.info has links to external websites. These links are are being provided as a convenience and for informational purposes only; they do not constitute an endorsement or an approval by us of any of the content of these external sites, We bear no responsibility for the accuracy, legality or content of the external site or for that of subsequent links.